Argentina vs Honduras: Rio 2016 Football Betting Preview And Tips
Argentina vs Honduras: Rio2016 Football Betting Tips
Rio 2016 Olympic Games – Football Betting Previews, Odds And Tips
When you hear about a football game between Argentina and Honduras, what is your first idea? You would think that the Argentinians should have no problem with the Caribbean minnows, correct? That would probably be true in many circumstances, but the 2016 Olympic Tournament is not one of them – the two teams are almost perfectly matched after two days, and their direct game for a place in the Quarter-Finals will surely prove to be spectacular.
10/08/2016 – Brasilia
Betting Odds: Argentina 1.44 or 4/9 Draw 4.20 or 16/5 Honduras 7.50 or 13/2 with Bet365
Both teams lost against Portugal, conceded two goals, but Honduras also managed to score in the first minute of their clash. They haven't shown great talent or creativity but are a very hard-working squad that enjoys direct, simple football.
This type of game has proven to be too much for Algeria on day 1, a game in which Honduras only had the ball 42% of the time, but won 3-2. They will surely look to play the same type of football against Argentina, but will face a completely different challenge – because the South Americans are much deadlier on the ball.
Meanwhile, Argentina lost 0-2 against Portugal after a rather even game on day 1 and beat Algeria 2-1 on day two, after a game in which each team had a player sent off.
We could clearly see that when their attacking players are at the top of their game, it's very hard for any team to stop them.
With the Hondurans more than willing to give them possession, the Argentinians must ensure two things: that they score and that they remain calm and composed in defense.
Both teams are battling for a qualification place, but the Argentinians need to win to take over second place. This is why we are sure they will have more possession, fewer yellow cards and will score at least once against the Caribbean team.
The Hondurans also know that playing for 0-0 isn't a viable option, and they will be looking to score a goal or two as well. If you are looking for a high-odd bet, try Argentina to win and over 2,5 goals.
Betting Tips:
Argentina Win & Over 2,5: 2.00 or 1/1 with NetBet
Both Teams To Score – Yes: 2.00 or 1/1 with NetBet
Both Teams To Score & Over 2,5 – Yes: 2.40 or 7/5 with NetBet
Rio 2016 Football Predictions & Betting Tips
Brazil vs Germany: Rio 2016 Gold Medal Match Betting Prediction & Tips
After countless games and encounters, ranging from the most spectacular and eventful to the dullest, we now know the names of the two teams fighting for Olympic Gold. Nobody could say their names come as a surprise – after all, Brazil and Germany are two of the teams with the largest history in all footballing competitions, including the Olympic Games. The final will take place just a few days after the 2 year anniversary of the dreaded Germany 7-1 Brazil in the World Cup. Will we see revenge? Rio 2016 Olympic Games – Football Betting Previews, Odds And Tips Betting Odds: Brazil 2.00 or 1/1 Draw 3.50 or 5/2 Germany 3.60 or 13/5 with Bet365 Up To £200 Opening Bonus…
Honduras vs Nigeria: Rio 2016 Bronze Medal Match Betting Prediction & Tips
With the Olympic Games football tournament coming to an end, fans from all over the world are looking forward to the finding out the answer to the most important question: which team will leave Rio with which medal? Out of the 4 contestants, only one team will leave Brazil without a medal, and the name of this team will be found out at the end of the 3rd place playoff. The contenders for bronze are Honduras and Nigeria. Rio 2016 Olympic Games – Football Betting Previews, Odds And Tips Betting Odds: Honduras 5.25 or 17/4 Draw 4.00 or 3/1 Nigeria 1.60 or 3/5 with Bet365 Up To £200 Opening Bonus From Bet365 – Join Now! Being able to play with…
Brazil vs Honduras: Rio 2016 Semi-Final Betting Tips
It's now official: we're down to the last 4 teams in the Olympic Games football tournament, out of which just one will leave home without a medal. On the 17th of August, all four teams will play their games – two of them will advance to the grand final, while the other two will be left to play for the bronze medal. Being so close to Olympic history must surely be exciting – let's see how the teams will cope with it. Rio 2016 Olympic Games – Football Betting Previews, Odds And Tips Betting Odds: Brazil 1.22 or 2/9 Draw 6.00 or 5/1 Honduras 13.00 or 12/1 with Bet365 Up To £200 Bonus For New Customers From Bet365 – Join…
Copa America Centenario group predictions - ESPN FC
Copa America predictions: U.S. group wide open, Brazil and Mexico to cruise
With the groups set for the 2016 Copa America Centenario, Tim Vickery predicts the eight teams that will advance to the knockout stages.
Group A: U.S., Colombia, Costa Rica, Paraguay
The Copa could hardly have a more dramatic start than a match between hosts U.S. and Colombia, one of the South American countries where this competition is likely to generate the most interest. In recent times Colombia have been followed by an impressively noisy set of fans and with so many Colombians based in the U.S., that is surely set to continue in June.
These two sides are the favourites to qualify although this might be the best balanced of the four groups.
Paraguay are notoriously resilient, and Costa Rica bring their 2014 World Cup pedigree to the dance. The question mark against the chances of the two CONMEBOL teams is whether they will be close to full strength. Paraguay coach Ramon Diaz has indicted that he will be experimenting with some youngsters, and the fact that Colombia have recently staged training sessions with a group of youthful, domestic players could be an indication that coach Jose Pekerman is thinking along similar lines.
If that happens, the balance shifts toward the two CONCACAF nations.
Group B: Brazil, Ecuador, Haiti, Peru
Brazil and Ecuador promise a fine start to a group where the matches are evenly split between the West and East coasts. The five-time world champions open their campaign against the sensation of South America's current World Cup qualifiers. A black mark against Ecuador is their recent record in tournaments: they were the only South American side in the last two World Cups not to make it out of the group stage, and their performances in recent Copas have been poor. Coach Gustavo Quinteros will be looking for something better from his men.
In Brazil, meanwhile, there is confusion about the availability of captain and attacking inspiration Neymar, with the Copa being overshadowed in the local mind by this summer's Olympic football tournament. Even so, Brazil are clear favourites to go through along with Ecuador. Haiti are seen as one of the weaker CONCACAF nations, and Peru may well bring an experimental squad.
>Group C: Mexico, Uruguay, Venezuela, Jamaica
Mexico have been handed a low-key group that will immediately test the attacking intentions of coach Juan Carlos Osorio. His team may not be against the most attack-minded opponents. Jamaica played in last year's Copa in Chile, where they were never disgraced but looked very short of inspiration.
Venezuela, meanwhile, are in a state of turmoil. The country's top 15 players recently signed a letter protesting the directors of the local FA and making it clear that relations with coach Noel Sanvicente are strained. The coach has since travelled to Europe to meet the players and attempt some form of detente. But it is not yet known whether they will be available -- or be selected -- for next month's World Cup qualifiers. Venezuela, then, are something of an unknown quantity.
Uruguay, though, should be interesting not least because their Under-20 side is proving such an excellent production line for the national team. They are favourites to go through with Mexico, but with coach Oscar Washington Tabarez liking to fight from inside a trench, it will be fascinating to see if El Tri can break them down in the opening group fixture.
Group D: Argentina, Chile, Bolivia, Panama
Argentina and Chile will meet in competitive action for the third time in a year. Their June 6 clash in Santa Clara is the least important of the three behind last year's Copa final and next month's World Cup qualifiers. Nevertheless it is full of interest, with Argentina eager to end their long wait without a senior title, and new Chile coach (and Argentine) Juan Antonio Pizzi needing some time to get to know his players and impose his methods. Argentina are clear group favourites.
Chile are in a state of transition, and Bolivia, one of South America's weakest teams, may well bring a squad of youngsters. The stage could be set, then, for Panama to make a breakthrough and announce themselves as CONCACAF's surprise side.
Tim Vickery covers South American football for ESPN FC. Follow him on Twitter @Tim_Vickery.
Use a Facebook account to add a comment, subject to Facebook's Terms of Service and Privacy Policy. Your Facebook name, photo & other personal information you make public on Facebook will appear with your comment, and may be used on ESPN's media platforms. Learn more.
South America - Argentina - Buenos Aires Subte (Metro)
ministerio bet-el en argentina rio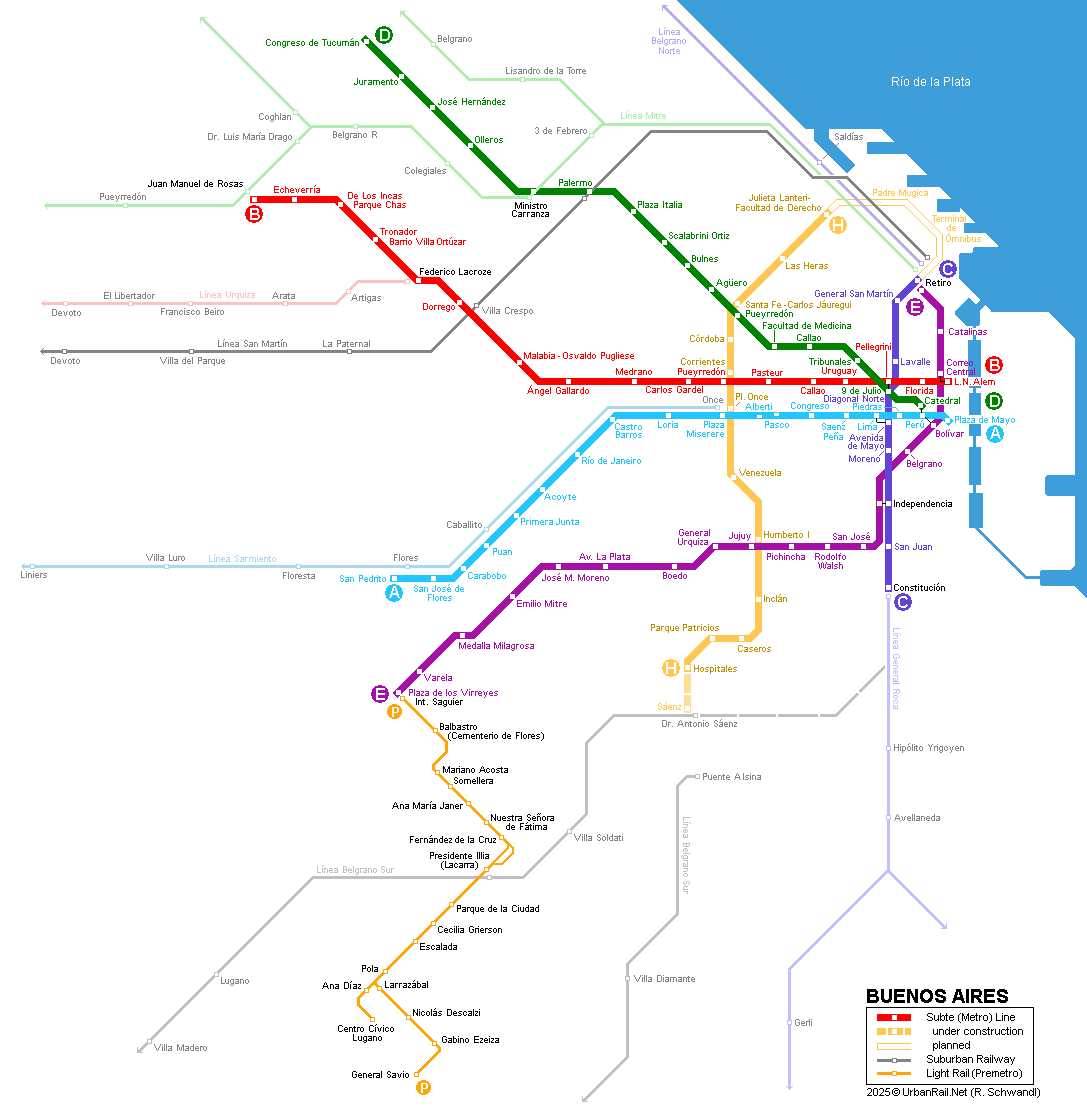 Buenos Aires, the capital of Argentina, is one of South America's biggest cities with 3 million inhabitants (Ciudad Autуnoma de Buenos Aires) and 12 million in the larger metropolitan area (Gran Buenos Aires). For a city of this size the metro network is still very small although it's by far the oldest subway in South America.
After losing many passengers during the 1980's, the Subte was privatised and is now operated by Metrovías which immediately started refurbishing stations and buying new rolling stock to replace older trains, some of which have been running since the Subte opened.
The total network is approx. 52 km (09/2013) and totally underground.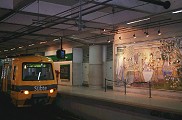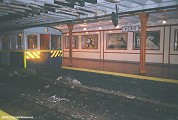 The first line of the metro, Line A, was built and initially operated by a private company called Anglo Argentine Tramway Company and opened already in 1913.
01/12/1913 - Plaza de Mayo - Plaza Miserere
01/04/1914 - Plaza Miserere - Río de Janeiro
01/07/1914 - Río de Janeiro - Primera Junta
23/12/2008 - Primera Junta - Carabobo
27/09/2013 - Carabobo - San Pedrito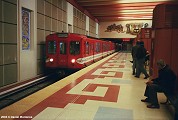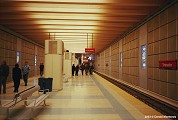 Line B was built by the Anglo's rival Lacroze. Lacroze operated an interurban line from Chacarita to Campo de Mayo, which later became General Urquiza railroad and is now owned by Metrovнas. That is one reason why Urquiza is the only railroad in Buenos Aires that has 1435 mm gauge instead of broad gauge. It originally had a catenary but was later changed to third rail and coaches are the same width than those from broad-gauge railroads. Lacroze designed and built Subte Line B to feed their suburban railroad. Since the only other Subte line at the time was a competitor, compatibility wasn't an issue, so Line B cars are wider and they use third rail, while all other lines use catenary.
17/10/1930 - Federico Lacroze - Callao
22/07/1931 - Callao - Pellegrini
xx/12/1931 - Pellegrini - L.N.Alem
09/08/2003 - Federico Lacroze - Los Incas
26/07/2013 - De Los Incas/Parque Chas - Juan Manuel de Rosas (1.6 km)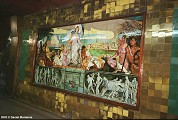 Line C was built by Chadopyf (Compaснa Hispano Argentina de Obras Pъblicas y Finanzas) in 1933. The first section was opened in 1934 and it went from Constituciуn to Diagonal Norte. In 1936, it was stretched to Retiro and in 1937 San Martнn station was opened. It currently uses Siemens cars.
09/11/1934 - Constitución - Diagonal Norte
06/02/1936 - Diagonal Norte - Retiro (General San Martín opened 17/08/1937)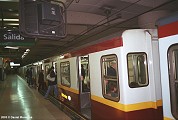 Line D was began in 1936 and the first section (Catedral - Tribunales) was opened in 1937. In 1940, it was extended to Palermo. This line was also built by Chadopyf. In 1987, it was extended to Ministro Carranza, and during the late 1990s it reached its current terminus Congreso de Tucumán. Line D has three different types of rolling stock: Fiat-Materfer (which are maroon and white), Nagoya (the city that owned them previously) and Alstom Metropolis (which were meant for Line A, which has to be upgraded before they can be used there).
03/06/1937 - Catedral - Tribunales (1.7 km)
23/02/1940 - Tribunales - Palermo
29/12/1987 - Palermo - Ministro Carranza
31/05/1997 - Ministro Carranza - José Hernández
27/04/2000 - Juramento - Congreso de Tucumán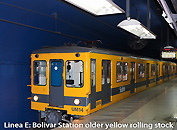 Line E was also built by Chadopyf. Work began in 1940 and the first section between San José and the intersection at General Urquiza was opened in 1944. Six months later, it was extended to a temporary platform at Boedo, which remained in use until a definitive station was opened in 1960. By 1966, it was extended from Bolivar to Avenida La Plata, then in 1973 to Josй Marнa Moreno, to Varela in 1985, and eventually to Plaza de los Virreyes in 1986. It uses the same Siemens cars as Line C, but with slight modifications.
20/06/1944 - San José (Plaza Constitución) - General Urquiza (3 km)
16/12/1944 - General Urquiza - Boedo (temporary platform)
09/12/1960 - Boedo (new station)
23/06/1973 - Av. La Plata - José María Moreno
07/10/1985 - José María Moreno - Emilio Mitre
31/10/1985 - Emilio Mitre - Medalla Milagrosa
27/11/1985 - Medalla Milagrosa - Varela
08/05/1986 - Varela - Plaza de los Virreyes
March 2013: Entre Ríos station renamed into Rodolfo Walsh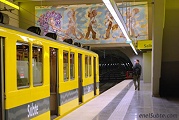 Line H opened in October 2007, 63 years after the last subte line had been brought into service. It was planned to run parallel to Line C , from Retiro to Sáenz (11 km), to be built in various stages. Construction on the first section between Plaza Once and Inclán started in 2001. A fifth station, Caseros, was added to the project in 2003.
18/10/2007: Once - Caseros (2.9 km)
06/12/2010: Once - Corrientes (0.7 km)
04/10/2011: Caseros - Parque Patricios (0.6 km)
27/05/2013: Parque Patricios - Hospitales (0.8 km)
18/12/2015: Corrientes - Las Heras (2 km)
12/07/2016: Santa Fe station
Apart from the Subte there is a 7.4 km light rail line (called Premetro and opened in 1987) which serves the southwestern part of the city from Line E 's terminus at Plaza de Los Virreyes.
Besides the Subte, Buenos Aires has numerous suburban railways, some operated with diesel and some with electric trains: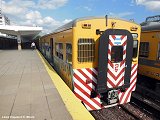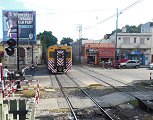 1) Ferrocarril Urquiza (Metrovías) - standard-gauge with 3rd rail power supply, running west from Federico Lacroze
2) Lнnea Mitre (UGOMS) - broad-gauge with 3rd rail power supply, running north and northwest from Retiro
3) Lнnea Belgrano Norte (FERROVIAS) - non-electrified metre-gauge line running north along the coast from Retiro
4) Lнnea San Martнn (SOFSE) - non-electrified broad-gauge line running west from Retiro
5) Lнnea Sarmiento (UGOMS) - broad-gauge with 3rd rail power supply, running west from Plaza Once; being put underground on inner section
6) Lнnea Belgrano Sur (SOFSE) - non-electrified metre-gauge lines running west from Buenos Aires and Puente Alsina terminals
7) Lнnea Roca (SOFSE) - broad-gauge with overhead power supply, running south from Plaza Constitución
8) Lнnea Tren de la Costa (TREN DE LA COSTA) (SOFSE) - standard-gauge light rail line electrified with overhead catenary in the north of the metropolitan area, connecting to the Bartolomé Mitre branch of the Línea Mitre.
Line H : Southern extension from Hospitales to Saenz, as well as a northern extension from Las Heras to Facultad de Derecho
Line E extension from Bolívar to Retiro (2 intermediate stations, C.Central and Catalinas) started mid-2007.
Line H - northern section Facultad de Derecho to Retiro
Long term plans include several north-south routes to create a proper network avoiding the city centre:
Line F - 8.6 km - from Plaza Italia (Line D) to Constitución (Line C); later south to Barracas.
Line G - 7.3 km - from Retiro to Cid Campeador; later northwest to Villa del Parque.
Line I - 6.6 km - from Emilio Mitre (Line E) to Plaza Italia (Line D); later north to Ciudad Universitaria.
- The former project to extend Line D from Congreso de Tucumán to Manuel Pedraza, was indefinitely postponed.
See Map1 (thanks to Jordi Serradell) and map2 (thanks to Mariano Hellmuth-Gуmez) with possible future lines.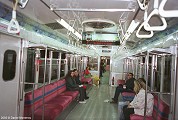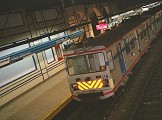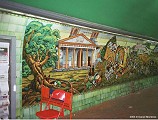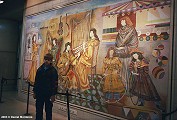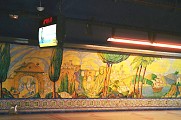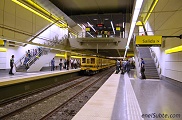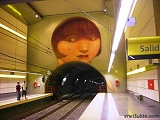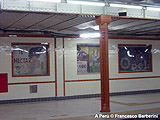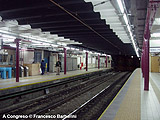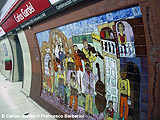 Photos © Daniel Monteros, Martнn Machain & © Francesco Barberini
ALAMYS - Asociación Latinoamericana de Metros y Subterráneos
2007 © Robert Schwandl (UrbanRail.Net)
LIST OF STATION RENAMINGS AFTER 1970 (Thanks to Daniel Monteros):
Josй Marнa Moreno >> Acoyte
Carlos Pellegrini >> 9 de Julio